Find out about us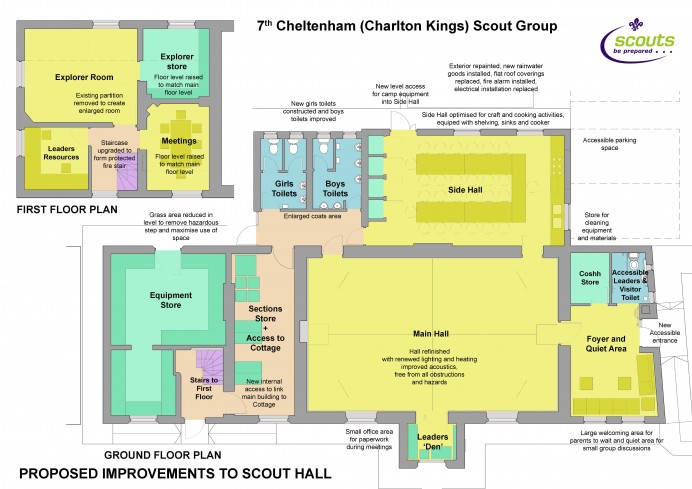 We continue to focus on the delivery of our Centenary Project, which aims to delivery improvements to the scout facilities, bring them up to standard and fit for the 21st century.
So far been able to carry out improvements to the main entrance, making this accessible and welcoming, with a ramped and stepped approach, a new area to wait and the benefit of an accessible toilet.
We have also fitted a brand new stainless steel kitchen area to the side hall to allow for group cooking activities and installed a new hot water system to serve this area. The roof has been replaced and upgraded, the flooring replaced and a new side access for equipment installed.
In the summer of 2013 we completed the construction of new girls toilet as well as improvements to the existing boys toilets. The new extension will also allow the hall and the cottage to be internally linked for the first time.
During 2014 we constructed a fantastic green oak outside covered activity area in memory of Alex Wright in the grounds at the rear of the scout hut.
During the summer and autumn of 2015 half the cottage had some major work to enable inside access replace the original 1850s staircase and provide a toilet and kichenette area this part of the building including rewiring and extending the fire alarm system.
This year (2016) we have completed the replacement of the last of the wiring in the main hall (the last old wiring in the building) and replaced the heating and lighting in the main hall. The rendering of the single skinned lobby and the western gable end is currently underway.
To assist the committee and the scout leaders in this and the general maintenance of the Scout Hall and its grounds please contact us through the leaders or through the contact us page on the website.