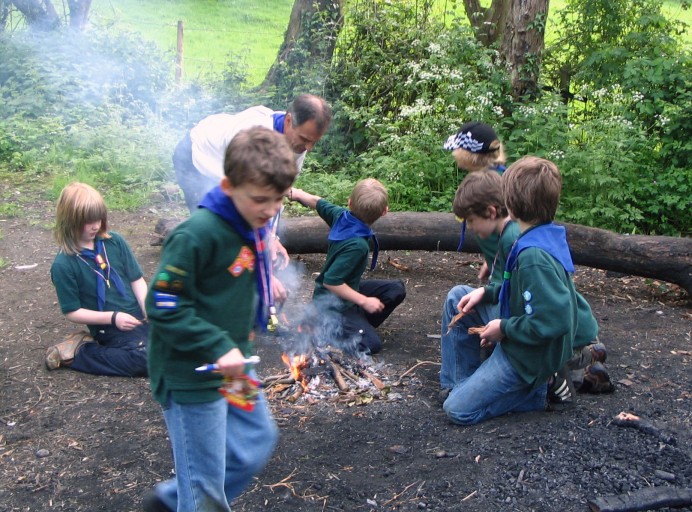 Girls and boys can join Cubs from the age of 8 and normally move up to Scouts at about 10½. Often children come to us from 'Beavers' but equally many join Cubs without having been members before.
We have three different Cub Scout packs which meet on Monday, Tuesday and Thursday evenings during term time at East End Hall (The Scout Hut), East End Road, Cheltenham.
Monday Cubs starts at 6.45 pm with Flag Break and finishes at 8.15 pm with Flag Down, whilst Tuesday and Thursday Cubs meet from 7.00 pm to 8.30 pm. Occasionally times are varied to suit activities but we will always let you know in advance. Please come into the building to drop off and collect your children so you can be sure we are there to look after them and we can be sure they have been safely collected.
All three nights have different Leaders and run different activity programmes each term but all provide well balanced, varied and active programmes offering fantastic opportunities to take part in a wide range of activities and to learn new skills: these typically include games, cooking, crafts and outdoor skills/activities as well as more adventurous activities such as climbing, sailing, kayaking, snow tubing or horse riding, to name a few.
Much of the programme is geared towards achieving badges or awards, undertaken as a group but Cubs can also obtain badges for activities done individually if suitable evidence is provided e.g. swimming badges. Details of all the awards can be found on the scout association website.
Each summer, normally in June, all three packs usually join together for an outdoor camping holiday and in the winter an indoor pack holiday, where the Cubs are able to take part in many Scouting activities.
Other opportunities are also offered for smaller numbers to take part in Narrowboat weekends and other trips away, as well as to take part in District and National scouting events.